The National Theatre Ghana is located in the Victoriaborg district of Accra.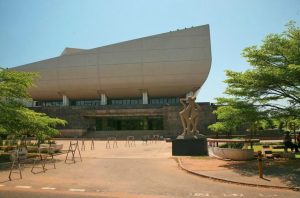 Opened in 1992 the venue is a must see and is unmissable due to the unique structure. From a distance the theatre resembles an impressive ship sailing through the city. The National Theatre Ghana has gradually become an icon of Accra like he Sydney Opera house. The building houses the three resident companies of the National Dance Company, the National Symphony Orchestra, and the National Theatre Player.
There are many events that take place at The National Theatre below are some of the latest events
---
Featured Events at the National Theatre, Accra
No Featured Events at the moment
---
Highlife Time with Naa Agyemn

The National Theatre of Ghana presents 2nd edition of HIGHLIFE TIME which is scheduled for Friday 3rd May, 2019 and every other 1st Friday of the month.
Musician: Naa Agyeman
Band: Ghana Police Service Band
Time: 7pm
Rate: GHC 10.00
Venue: National Theatre (Folks Place)
---
Regular events taking place at the National Theatre in Accra in 2019
Every First Friday of the month the National Theatre in Accra hosts HIGHLIFE TIME
This event is a live band performance which features a new band each month.
Time is 6.30pm prompt with tickets from  GHC 10.00.
So if you want to dance and have a good time come and enjoy Highlife Time
---
The Chocho concert party Every second Sunday of the month
The second Sunday of every month come and enjoy the Chocho Concert party, which is a range of short plays, comedy and music. The stage drama is an educative programme which helps to tell the real story of Ghana through many different forms. Its an entertaining experience where you will be entertained by a range of artists
---
FunWorld
Third sunday of every month at the National Theatre Accra
This is a theatrical programme with performances created by children for children which includes Poetry, Dance, Drama, Brain Challenge, and Music
Tickets are GHS 4.00.
---
Contact the National Theatre booking office
Telephone: +233 30 266 3449
Location of National Theatre Accra
---