What is the Chale Wote Festival all about?
For the last eight years the Chale Wote street art festival which combines art, music and sometimes the just plain weird and odd of Ghana has inspired and provoked. The festival has always been an alternative platform that helps bring  art, music, design, dance and performance out into the streets of James Town. Which is considered one of Accra's most historic communities. James town can be considered the Camden come 60s Carnaby street Street electic and UK Hoxton hipster area of Accra.
For the weeklong festival public spaces become art features artists from all over Ghana and the world descend into James Town creating an almost carnival atmosphere which is an amazing experience for your senses. Each year the festival has a theme and the 2018 Chale Wote street art festival is in "Para-Other"
What does the 2018 Chale Wote theme Para Other mean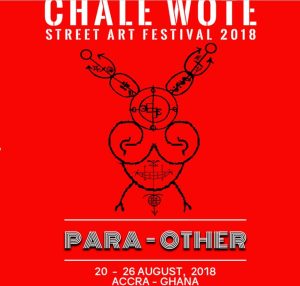 Para-Other represents our evolution beyond the dialectic of belonging and non-belonging. It is a rejection of citizenship that has no place for the advancement of radical imagination, new perspectives of the self and human agency. Para-Other is a transatlantic shortwave that transcends language and geography, but is also represented in relationship to unique locals.  It is a philosophy born out of historically determined necessity to flourish beyond a world of alienation and crisis we currently experience as reality. Para-Other requires new knowledge fractals, codes, symbols, and sounds that transmit our core creative intent where imperial languages fail us. This order is an embracing of a black labyrinth and establishment of an aesthetic that captures our cessation of flight and transit into a non-contested existence.
Ok..its a mouthful right!
Considering you take all that in, and you can feel your creative and artistic juices flowing the Chale Wote street art festival is a must see and experience that you have to do this August.
When is the Chale Wote Street art festival
20th – 26th of August 2018 – its a free event
Where is it taking place
James Town – Accra