Kotoka Airport in Accra serves the capital of Ghana the airport is the gateway to Ghana and nothing beats the feeling of flying to Ghana and of touching down there. If you are lucky and you get the obligatory clapping as the plane touches down which is followed by the jostling in seats as passengers prepare themselves to disembark you know you are about to have an experience. Everyone waits for the ping of the fasten your seat belt signs to go off and the pilot to announce over the speaker  "cabin crew doors to manual"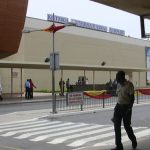 As a passenger you are only a few minutes away from something we feel many take for granted. Wherever you have traveled from there is something quite special about that moment when the doors open for the first time and the cabin gradually starts to be filled with the warm humid and sometimes moist air of Accra. This is when you realize you are in Africa, Ghana. For frequent travelers many have become immune to this experience and just rush for their bags. But next time take a moment watch the flight crew as you see them trying to adjust to the heat undoing their top buttons as they great you on the exit as the sweat beads builds on the brow.
Some interesting facts about Kotoka International Airport in Accra
Did you know that Kotoka International Airport has the capacity to accommodate the Airbus A380? The airport is operated by Ghana Airports Company Limited (GACL) which was established as a result of the decoupling of the existing Ghana Civil Aviation Authority (GCAA) in line with the modern trends in the aviation industry. For more general information on the airport check out Wikipedia
The airport also works as a hub for domestic flights to and from Kumasi, Takoradi which is provided by Africa World Airlines. They also provide flights to Lagos in Nigeria.
Currently there are just over 16 airlines they make regular flights into Kotoka International Airport so where ever you are starting your journey from you can be sure there is an airline that will take you to Accra.