The National Theatre Ghana is located in the Victoriaborg district of Accra.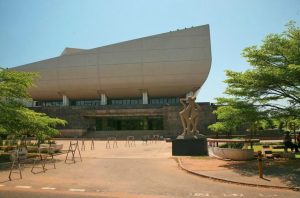 Opened in 1992 the venue is a must see and is unmissable due to the unique structure. From a distance the theatre resembles an impressive ship sailing through the city. The National Theatre Ghana has gradually become an icon of Accra like he Sydney Opera house. The building houses the three resident companies of the National Dance Company, the National Symphony Orchestra, and the National Theatre Player.
There are many events that take place at The National Theatre below are some of the latest events
---
Featured Events at the National Theatre, Accra
Azali
Azali -is a movie on Child Labour following the journey of AMINA, a 14-year-old girl and a native of Northern Ghana with a great future.  Amina's future is put on a crossroad when her mother has to make a grave choice of marrying Amina to a much older man or sending her off to work in Burkina Faso due to a shortage of money.  
AZALI is a Ghanaian movie in Dagbani, Twi and English, which seeks to expose the dangers of Child labour, child abuse. Released in October 2018 the screening in the National Theatre of this must see film will be a great experience.
Date: 25th & 26th July, 2019 
Time: 7pm each night
Rate: GHC 20.00
Venue: National Theatre (Exhibition Hall)
---
Love Acne
Love's Acne is a story about a young woman who had been through so much hurt and misery, but her anger and thirst for revenge pushes her to seek the truth behind all the pain she had to go through. In her quest to seek answers and take revenge on who she felt was responsible, she finds out she has been her own demon and now has to ask for forgiveness to set her conscience free from all her demons. Will she risk everything to quench her thirst for revenge even if the man she has always loved is the cause of everything that went wrong in her life?
Date: Wednesday, 31st July, 2019
Time: 7pm
Rate: GHC 20.00
Venue: National Theatre (Folks Place)
---
Regular Events at The National Theatre 2019
Every last
Friday of the month the National Theatre in Accra hosts HIGHLIFE TIME
This event is a live band performance which features a new band each month.
Time is 7pm prompt with tickets from  GHC 10.00.
So if you want to dance and have a good time come and enjoy Highlife Time
Time: 7pm 
Dates: Last Friday of each month
Rate: GHC 10
Venue: National Theatre 
---
The concert party Every second Sunday of the month
The second Sunday of every month come and enjoy the Concert party, which is a range of short plays, comedy and music. The stage drama is an educative programme which helps to tell the real story of Ghana through many different forms. Its an entertaining experience where you will be entertained by a range of artists and groups
Time: 4pm 
Dates: Second Sunday of each month
Rate: GHC 10
Venue: National Theatre 
---
FunWorld
Third Sunday of every month at the National Theatre Accra
This is a theatrical programme with performances created by children for children which includes Poetry, Dance, Drama, Brain Challenge, and Music
Time: 4pm 
Dates: Third Sunday of each month
Rate: GHC 4
Venue: National Theatre 
---
Contact the National Theatre booking office
Telephone: +233 30 266 3449
Location of National Theatre Accra
---